Today's Verse for 08/18/2012
I consider that our present sufferings are not worth comparing with the glory that will be revealed in us. —
Romans 8:18
Thought
"Life is hard. Anyone who tells you differently is trying to sell you something." This line from the movie "The Princess Bride" is poignantly accurate. But it is not eternally accurate! Better days are ahead, and they are better than anything we can dare imagine. "O that will be, glory for me... when by Thy grace I shall look on His face, that will be glory..."

Prayer
Please, Almighty God, give me the courage and the vision to anticipate from afar the ultimate realization of grace that you have waiting and to believe up close that you are working to bring me home to you, and to that glory. In Jesus' name. Amen.

The Thoughts and Prayers for Today's Verse are written by Phil Ware. You can email questions or comments to phil@heartlight.org.
Today's Verse Illustrated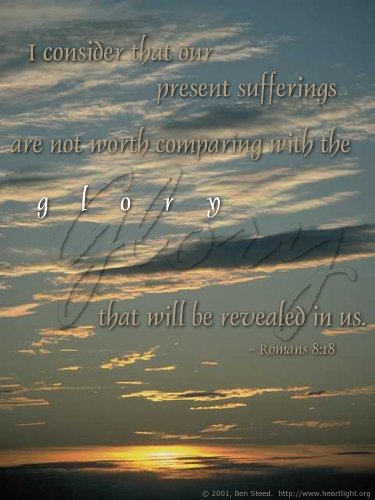 ---