Today's Verse for 09/20/2012
"But what about you?" he asked. "Who do you say I am?" Peter answered, "The Christ of God." —
Luke 9:20
Thought
A lot of people have their opinions about Jesus' identity. The real issue, however, is what you believe about Jesus. What you decide about God's Son means everything for you and for those you influence. So listen to Jesus' question to his disciples as if he is asking it of you: "Who do you say I am?" I pray that your answer is the same as Peter's: "You are the Messiah, the Son of God."

Prayer
Dear Heavenly Father, thank you for Jesus, who is my Lord, Savior, friend, and older brother in your family. I praise you for sending him to reveal yourself to us and I thank you for your love demonstrated by him on the Cross. I do believe that Jesus is the Christ, the Son of the Living God, and the only Savior who can bring freedom, pardon, cleansing, and complete salvation. Thank you! In Jesus' mighty name I pray. Amen.

The Thoughts and Prayers for Today's Verse are written by Phil Ware. You can email questions or comments to phil@heartlight.org.
Today's Verse Illustrated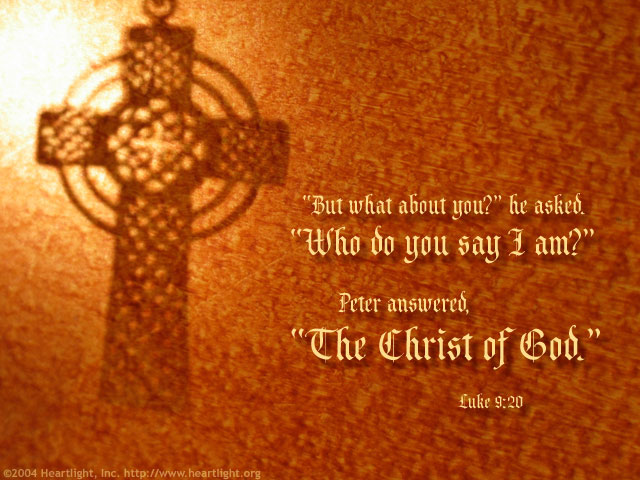 ---