Today's Verse for 10/25/2012
Let us not give up meeting together, as some are in the habit of doing, but let us encourage one another -- and all the more as you see the Day approaching. —
Hebrews 10:25
Thought
Going to church for most folks just isn't very attractive. But, that shouldn't surprise us. Doing things as an act of discipline isn't very popular. Doing things for others isn't seen as something necessary. The Holy Spirit's message, however, reminds us that we need to go to be with God's people because they need us -- to encourage and to motivate THEM! In fact, I think the Lord would prefer us to think of it as "being" church rather than "going" to church.

Prayer
Father, please bless the group of Christians with whom I regularly meet. Bless them through my words, attitude, and influence as we join together to honor you and encourage each other. Thank you for giving me people with whom I can share my journey home to you. In Jesus' name. Amen.

The Thoughts and Prayers for Today's Verse are written by Phil Ware. You can email questions or comments to phil@heartlight.org.
Today's Verse Illustrated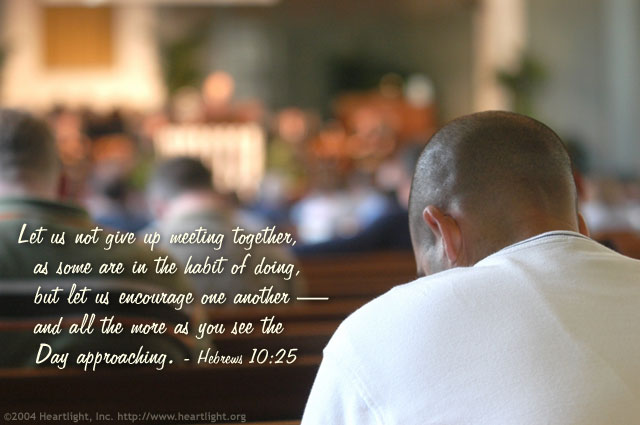 ---