Today's Verse for 01/24/2013
Ascribe to the LORD the glory due his name; worship the LORD in the splendor of his holiness. —
Psalm 29:2
Thought
Giving glory, ascribing glory, is not an easy thing for us to do. Let's admit it. We're much more used to asking from God rather than blessing God and calling others to him. So let's use the rest of this week to pray prayers of thanksgiving and praise, glorifying God's holy name.

Prayer
Father, you are marvelous and magnificent beyond my description and understanding. Thank you for sending Jesus to help me catch a glimpse of your glory. Thank you for sustaining me and those I love. I thank you in Jesus' name. Amen.

The Thoughts and Prayers for Today's Verse are written by Phil Ware. You can email questions or comments to phil@heartlight.org.
Today's Verse Illustrated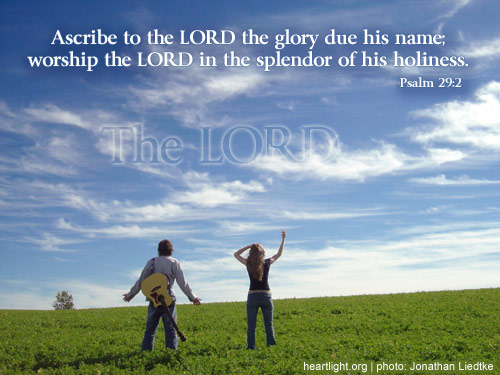 ---