Today's Verse for 03/08/2013
If anyone loves me, he will obey my teaching. My Father will love him, and we will come to him and make our home with him. —
John 14:23
Thought
This chapter begins with Jesus promising that he is going back to heaven to prepare a place for us. Now, however, he wants us to know that we don't have to wait until heaven to be in the presence of God. As we love God and obey his Word, God comes and makes his home with us. Isn't it an amazing and gracious thought: God, the Creator of the Universe, the Holy One of Israel lives in me!

Prayer
For your abiding presence within me, O God, I thank and praise you. May my life reflect the holiness and grace of your presence in all that I do, think, and say. In Jesus' name I pray. Amen.

The Thoughts and Prayers for Today's Verse are written by Phil Ware.

Have questions? Share in spiritual discussion and prayer with someone who cares.

Chat now!
Today's Verse Illustrated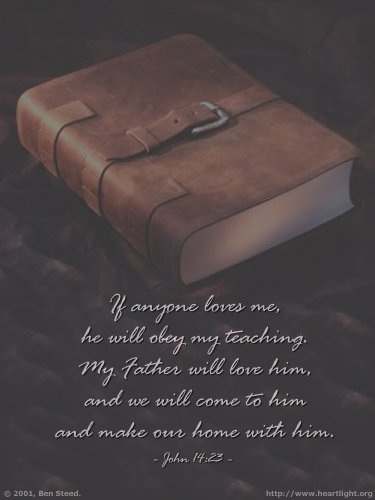 ---