Today's Verse for 04/21/2013
But thanks be to God! He gives us the victory through our Lord Jesus Christ. —
1 Corinthians 15:57
Thought
Life is ours! Death no longer holds us captive! Victory has been given to us! Jesus is Lord. What else needs to be said? "Praise God!"

Prayer
Thank you, Father, for sending Jesus. Thank you, Almighty God, for raising him from the dead. Thank you for the assurance that his life is alive in me as I serve in you. In Jesus' name I praise you . Amen.

The Thoughts and Prayers for Today's Verse are written by Phil Ware.

Have questions? Share in spiritual discussion and prayer with someone who cares.

Chat now!
Today's Verse Illustrated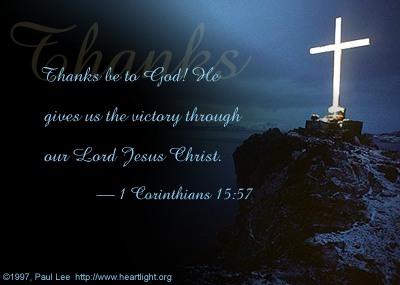 ---