Today's Verse for 05/27/2013
Do you not know? Have you not heard? The LORD is the everlasting God, the Creator of the ends of the earth. He will not grow tired or weary, and his understanding no one can fathom. He gives strength to the weary and increases the power of the weak. —
Isaiah 40:28-29
Thought
God is eternal. He has unlimited power. His supply of strength is limitless. He blesses and shares his grace without growing tired. Most importantly, he longs to share his power and grace with us daily.

Prayer
Almighty and eternal God, loving and generous in your mercy, thank you for giving me strength in my weariness, guidance in my confusion, and hope in my despair. Please bless me with courage to follow your will and trust in your presence through the Holy Spirit. In Jesus' name I pray. Amen.

The Thoughts and Prayers for Today's Verse are written by Phil Ware.

Have questions? Share in spiritual discussion and prayer with someone who cares.

Chat now!
Today's Verse Illustrated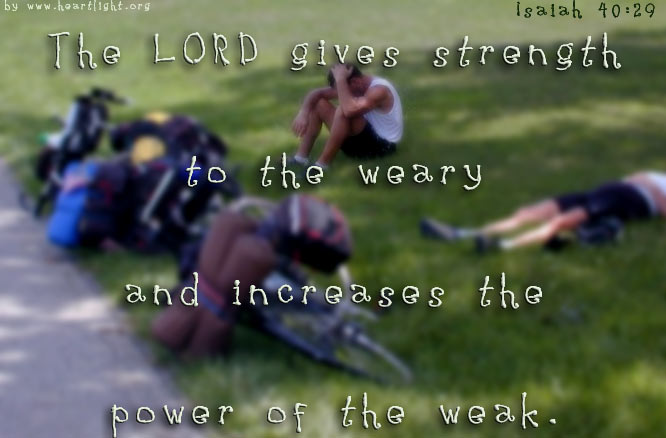 ---