Today's Verse for 06/28/2013
Blessings crown the head of the righteous, but violence overwhelms the mouth of the wicked. —
Proverbs 10:6
Thought
Righteousness brings us great blessings. Violence becomes its own vile reward, bringing to those who use it what they have done to others. So what's our choice? Blessing or violence? Encouragement or a foul mouth? So what's the real choice? Letting God define character and not someone else.

Prayer
Father, I want to live your life to please you, to bring your Kingdom a blessing, and to help others see that violence is destructive to themselves, to others, and also to the little children. In Jesus' name I pray. Amen.

The Thoughts and Prayers for Today's Verse are written by Phil Ware.

Have questions? Share in spiritual discussion and prayer with someone who cares.

Chat now!
Today's Verse Illustrated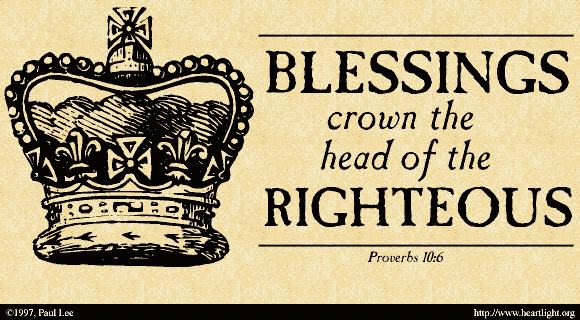 ---