"Why do you look at the speck of sawdust in your brother's eye and pay no attention to the plank in your own eye? How can you say to your brother, 'Let me take the speck out of your eye,' when all the time there is a plank in your own eye? You hypocrite, first take the plank out of your own eye, and then you will see clearly to remove the speck from your brother's eye." —
Matthew 7:3-5
Thought
Finding fault in someone else is so easy for most of us. Finding fault in ourselves is much trickier. Jesus reminds us that we must deal with the shortcomings and sins in our own lives before we start telling others how to live. Seems pretty simple, doesn't it? But we all know it isn't.

Prayer
Father, please forgive me when I am severe, harsh, and judgmental toward others. I know there are problems in my own life that need the work of your Holy Spirit. I confess that there are routine sins that I find myself excusing more and more. Please, dear LORD, forgive my sin and empower me to move beyond it. In Jesus' name I pray. Amen.

The Thoughts and Prayers for Today's Verse are written by Phil Ware.

Have questions? Share in spiritual discussion and prayer with someone who cares.

Chat now!
Today's Verse Illustrated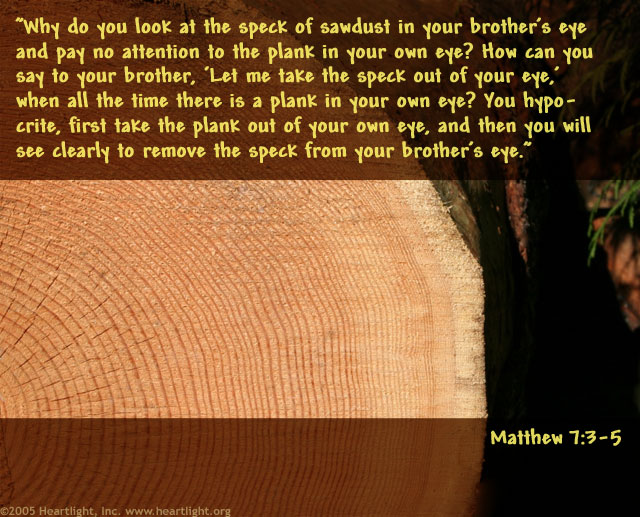 ---