Thought
Love does have its delights. One of those delights is in what is authentic, genuine, and true -- TRUTH! So as Jesus' disciples, we are not deceitful, manipulative, or coercive in our relationships. Instead, we are transparent, intimate, and honest. Why? Because true love delights in truth.

Prayer
O LORD, God of love and truth, as you pour your love into my heart through your Holy Spirit, please refine my love to be genuine and true, without guile, manipulation, and deceit. In Jesus' name I pray. Amen.

The Thoughts and Prayers for Today's Verse are written by Phil Ware.

Have questions? Share in spiritual discussion and prayer with someone who cares.

Chat now!
Today's Verse Illustrated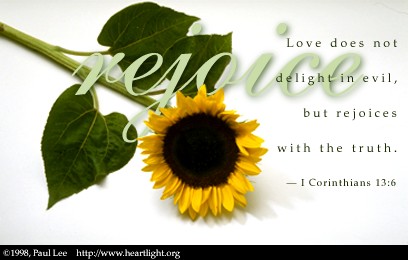 ---