Today's Verse for 12/24/2013
But the angel said to them, "Do not be afraid. I bring you good news of great joy that will be for all the people." —
Luke 2:10
Thought
Don't be afraid! What can cast away all fear in the presence of God's glorious messengers? The joy of knowing that God has come to earth to bring an end to sin and Satan's curse and to bring salvation to all people! Fear must not master our hearts when we know that God has broken through every barrier to reach us with his overwhelming grace.

Prayer
I praise you, Almighty God, for the gift of joy that chases away all fear. Fill my heart with that joy and fill my mind with wonder as I try to comprehend your love for me. Stir me to greater concern for those who have not heard, or who have not yet accepted, your offer of grace in your Son Jesus, in whose name I pray. Amen.

The Thoughts and Prayers for Today's Verse are written by Phil Ware.

Have questions? Share in spiritual discussion and prayer with someone who cares.

Chat now!
Today's Verse Illustrated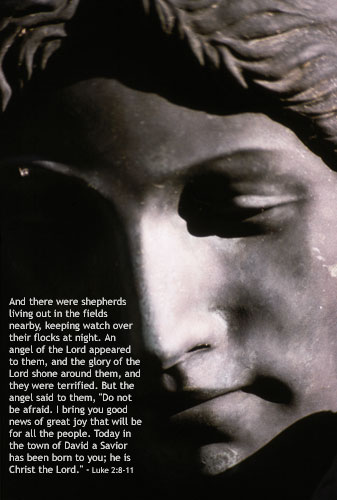 ---