Today's Verse for 02/23/2014
Because of his great love for us, God, who is rich in mercy, made us alive with Christ even when we were dead in our transgressions - it is by grace you have been saved. —
Ephesians 2:4-5
Thought
Of all things to be rich in, I cannot think of anything I'd prefer the Holy God to be rich in than mercy. I know my failures, shortcomings, sins, and transgressions. Without his mercy, to pardon again, and without his grace to send Jesus to pardon at first, I would be lost and without God. Now, because of his rich mercy, my life is tied to Jesus' future and not the one I earned for myself.

Prayer
Father of all grace and mercy, thank you. Thank you for being God like you are God. Thank you for extending grace when I have not deserved it. Thank you for giving mercy when I most needed it. Thank you for giving life when I thought my life was doomed and hopeless. May my wealth be in mercy and grace much more than money and gold. Help me be more like you. In the name of Jesus, my older Brother and Savior, I pray. Amen.

The Thoughts and Prayers for Today's Verse are written by Phil Ware.

Have questions? Share in spiritual discussion and prayer with someone who cares.

Chat now!
Today's Verse Illustrated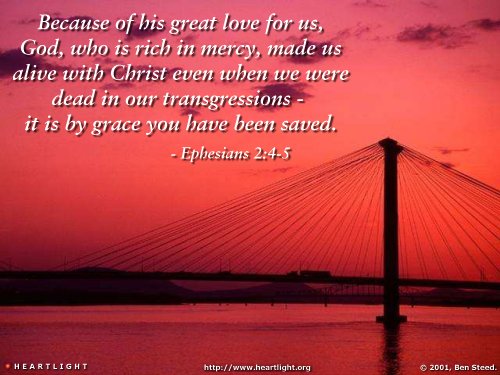 ---