Today's Verse for 02/18/2014
I am convinced that neither death nor life, neither angels nor demons, neither present nor the future, nor powers, neither height nor depth, nor anything else in all creation, will be able to separate us from the love of God that is ours in Christ Jesus our Lord. —
Romans 8:38-39
Thought
Separation is something we fear whether it's separation from a child, a parent, a sibling, a spouse, a friend, or from God. Jesus endured separation from God by becoming a human and by going to the cross. Because of Jesus' sacrifice, we can know we won't have to ever be separated from God's love. He bore the separation so we would never have to fear it!

Prayer
Great Father of all peoples, thank you for loving me. Thank you for giving me the promise that nothing can separate me from your love. Make me more aware of your accompanying presence in my life. I pray this in Jesus name. Amen.

The Thoughts and Prayers for Today's Verse are written by Phil Ware.

Have questions? Share in spiritual discussion and prayer with someone who cares.

Chat now!
Today's Verse Illustrated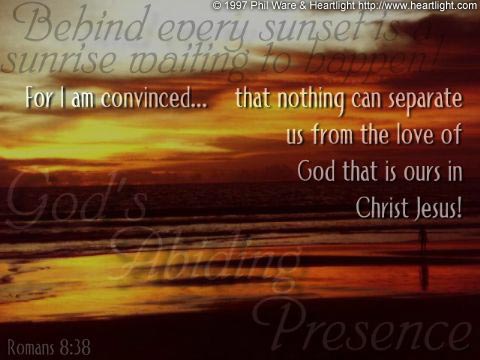 ---