Today's Verse for 01/10/2019
For we do not preach ourselves, but Jesus Christ as Lord, and ourselves as your servants for Jesus' sake. —
2 Corinthians 4:5
Thought
Our message is not ourselves. Jesus is Lord. One day all of creation will acknowledge and praise him. But for the people around us to praise Jesus today, they need to see him alive in us. We serve others in Jesus' name. We are his body — his hands of compassion, his heart of mercy, and his voice of tenderness. So let's lift up Jesus — not just by telling others about him, but serving others as his presence in the world.

Prayer
God of grace, thank you for the privilege of sharing your love with others. Thank you for saving me FROM my sin. Thank you for saving me FOR service to bless others for Jesus' sake. In the name of Jesus, my Savior, I pray. Amen.
---
Today's Verse Illustrated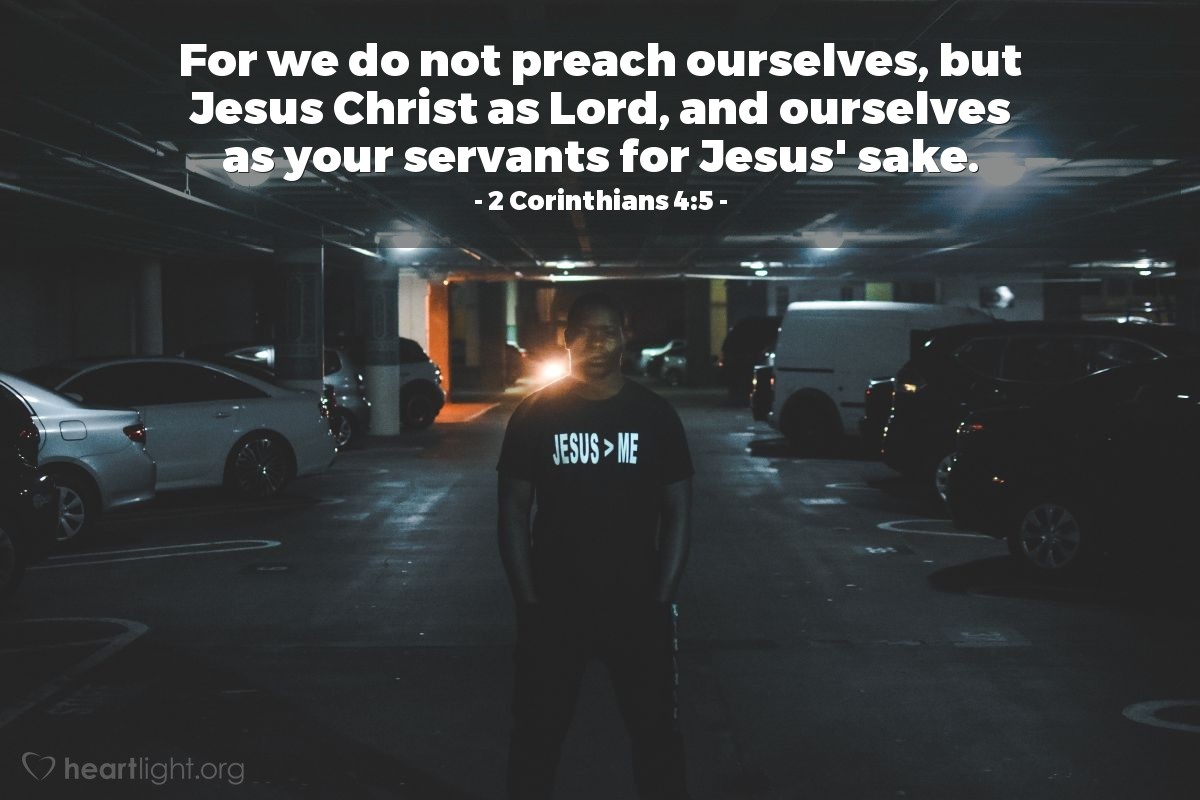 ---
Heartlight is proud to support
Compassion International
.
---
This devotional was sent to kansasman68.spirit-filled@blogger.com, who has been receiving it since 13 Mar 2011 07:39.
HOW DO I LEAVE?
Click this link to be removed
.
STILL HAVING TROUBLE? If our automated unsubscribe system isn't working for you, send an email to
mailmaster@heartlight.org
and let us know what list you would like to leave. We'll take care of you.
HOW DO I SUBSCRIBE? It's FREE! Visit
Heartlight.org
to subscribe to our devotionals.
© 1998-2019,
Heartlight
Inc.