Today's Verse for 01/12/2019
You are to help your brothers until the LORD gives them rest, as he has done for you, and until they too have taken possession of the land that the LORD your God is giving them. After that, you may go back and occupy your own land, which Moses the servant of the LORD gave you east of the Jordan toward the sunrise. —
Joshua 1:14-15
Thought
I find it so easy to think of my needs and my safety first. I don't want to be selfish, but when it comes to making decisions about the investment of my time, it's so easy for me to see things only from MY perspective. But with God's people, it's a "we" and "us" perspective that is important, not a "me" and "mine" perspective. The Eastern tribes of Israel had reached their Promised Land. But they were not to quit the fight and settle there until all God's people were safely in their homeland. The same is true for us in God's Kingdom today. We are to look not only to our needs but also to those of our brothers and sisters in Christ.

Prayer
Loving Father, please give me a more gracious and generous heart so that I might better demonstrate your love to a struggling brother or sister in Christ today. In Jesus' name, I pray. Amen.
---
Today's Verse Illustrated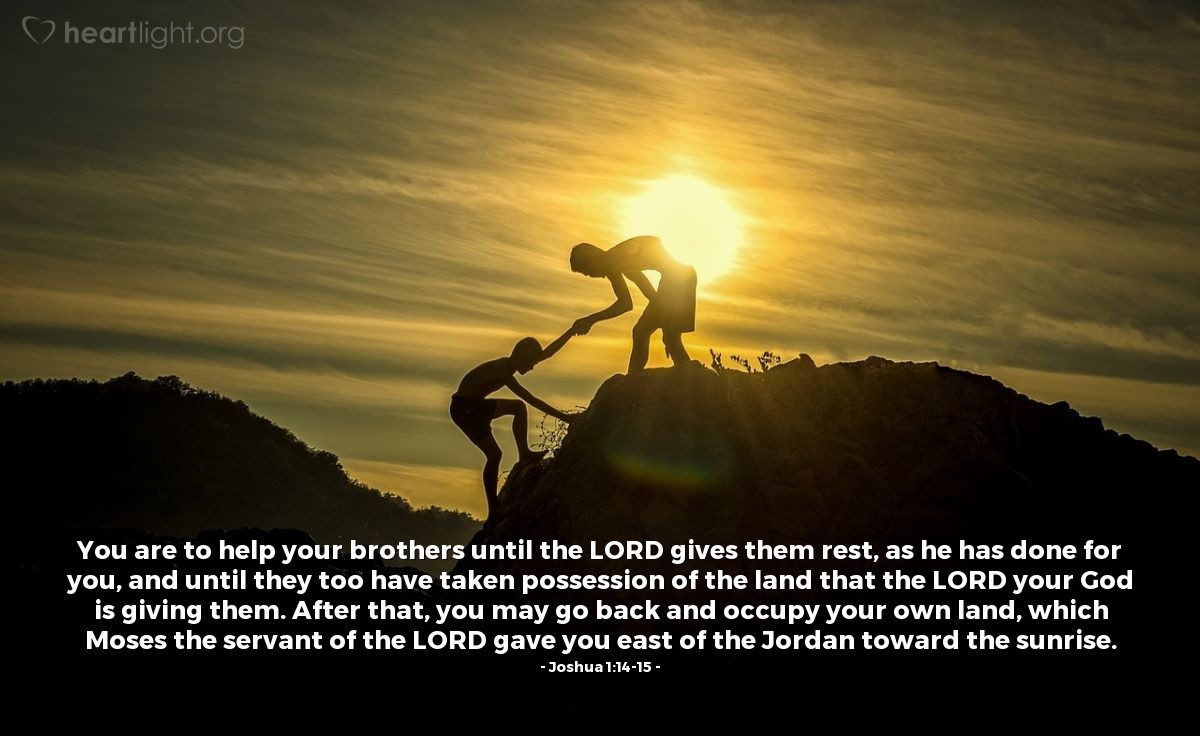 ---
Heartlight is proud to support
Compassion International
.
---
This devotional was sent to kansasman68.spirit-filled@blogger.com, who has been receiving it since 13 Mar 2011 07:39.
HOW DO I LEAVE?
Click this link to be removed
.
STILL HAVING TROUBLE? If our automated unsubscribe system isn't working for you, send an email to
mailmaster@heartlight.org
and let us know what list you would like to leave. We'll take care of you.
HOW DO I SUBSCRIBE? It's FREE! Visit
Heartlight.org
to subscribe to our devotionals.
© 1998-2019,
Heartlight
Inc.