A. F. Johnson Memorial Chapel: Daily Devotionals
A Daily devotional and prayer site set up In memory of my Grandmother A. Frances Johnson (Oct 19,1908-Sept 28,1995) ---- - Rev. D. K. Surbaugh
Wednesday, June 3, 2020
---
(please feel free to add your own prayer in the comments below this prayer)
Posted by Kevin Surbaugh
at 6/03/2020 08:00:00 AM
0 comments


Links to this post
Today's Verse for 06/03/2020
Or don't you know that all of us who were baptized into Christ Jesus were baptized into his death? —
Romans 6:3
Thought
More than an outward symbol, baptism is coming to the core of the gospel (1 Corinthians 15:1-4) and sharing in it by grace (Romans 6:1-15). What an incredible blessing to be able to do what Jesus did at the beginning of his ministry to please God (Luke 3:21-22), and also know that through our faith in God's power to raise him from the dead, our lives can be joined with his until we can share fully in his glory! (Colossians 2:12; 3:1-4).
Prayer
Loving Father, thank you for your grace. Thank you for raising Jesus from death. Thank you for letting me share in that resurrection through faith. Thank you for the assurance I have of sharing in his glory. Thank you for letting me be your beloved child, with whom you are well pleased. Thank you in Jesus' name. Amen.
---
Today's Verse Illustrated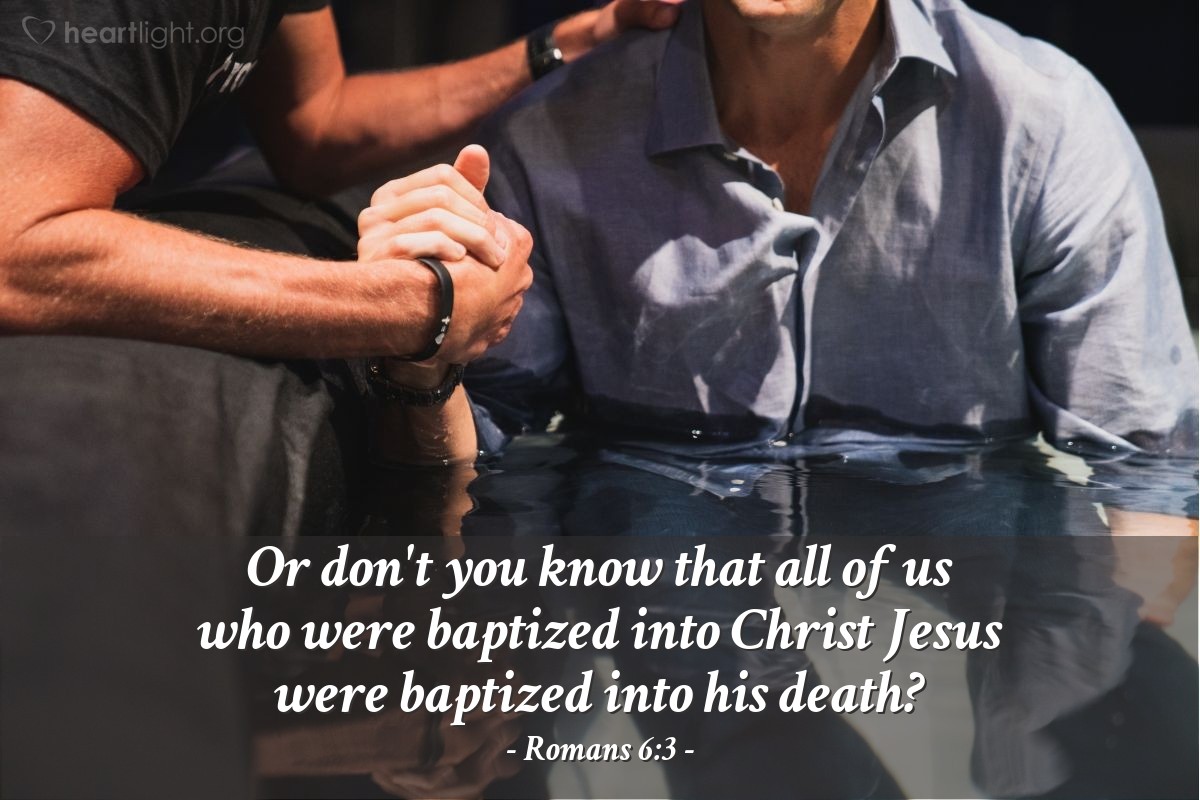 ---
Posted by Kevin Surbaugh
at 6/03/2020 05:44:00 AM
1 comments


Links to this post
Tuesday, June 2, 2020
Carry each other's burdens, and in this way you will fulfill the law of Christ. —
Galatians 6:2
Thought
"I didn't know Jesus had a law!" Well, he doesn't have a written one like we find in the Old Testament (2 Corinthians 3). No, his is Spirit-imprinted on our hearts and transforms our character. This law gives us liberty from written law (James 2:12-17) and emphasizes the undergirding principle that guided Jesus' life — sacrifice and service for others (Philippians 2:5-11). Far more than a written law, this is a passion for Christ and a commitment to be like him.
Prayer
Almighty and compassionate Father, may Jesus' passion of helping others be my passion so that others may see your love and grace through my life and glorify you! In the name of Jesus I pray. Amen.
---
Today's Verse Illustrated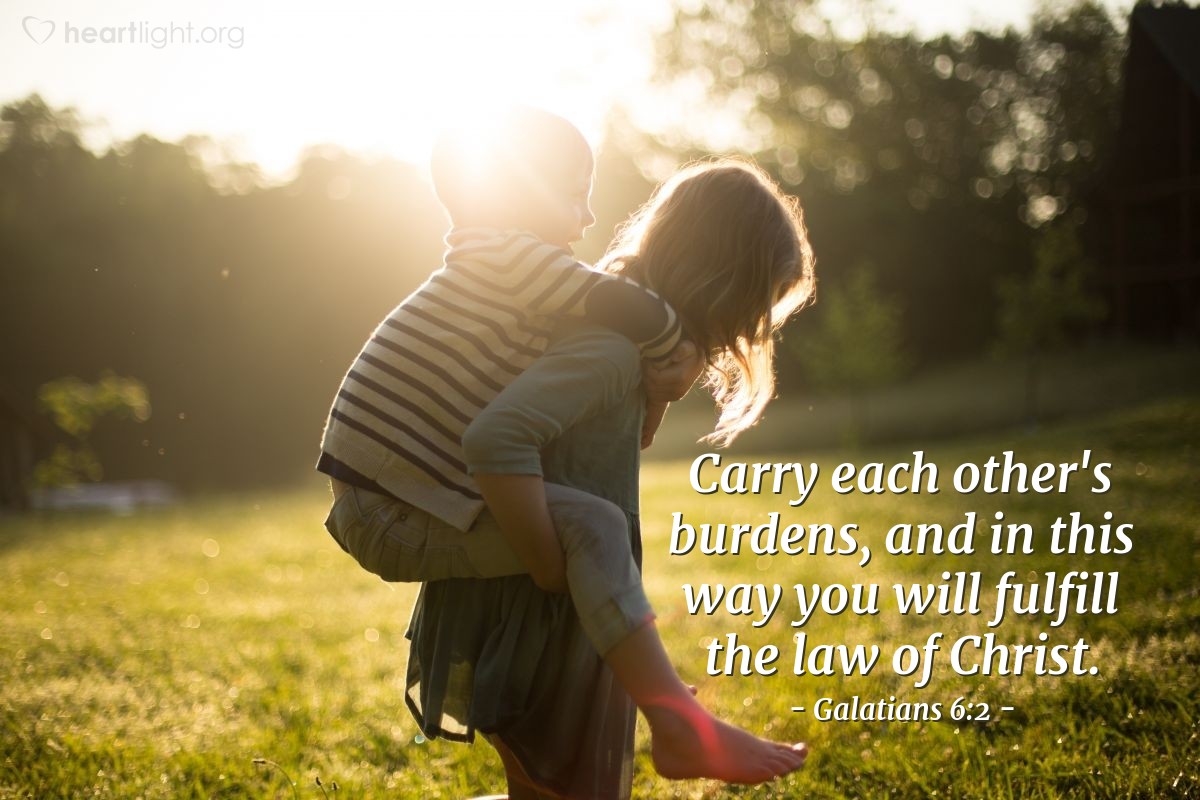 ---
Posted by Kevin Surbaugh
at 6/02/2020 06:00:00 AM
1 comments


Links to this post
Monday, June 1, 2020
Today's Verse for 06/01/2020
"Be careful not to do your 'acts of righteousness' before men, to be seen by them. If you do, you will have no reward from your Father in heaven." —
Matthew 6:1
Thought
Compassion is not for personal glory, just as it is not a private internal emotion. Christian compassion must always motivate us to act in the best interest and for the greater good of those in need, without calling attention to ourselves or our sacrifices. God provides what we need to bless others and takes care of the reward when our goal is to please him and to be used by him to bless others who are in need.
Prayer
Loving God and tender Shepherd, use me each day to be a blessing to someone in need. Please open my eyes and ears to see those around me who need emotional support or financial help. Please give me the courage to bless them and lead them closer to you. In Jesus' name I pray. Amen.
---
Today's Verse Illustrated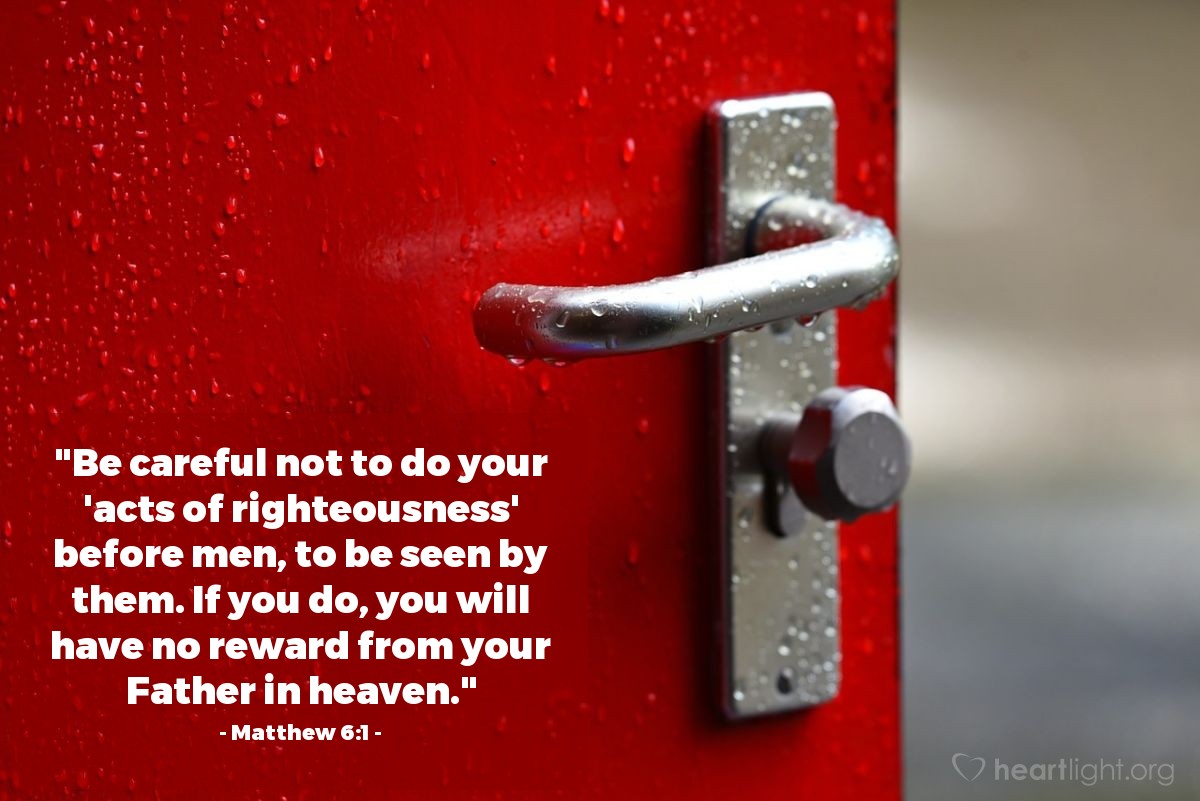 ---
Posted by Kevin Surbaugh
at 6/01/2020 05:24:00 AM
0 comments


Links to this post